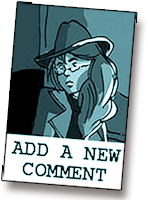 | | | | | |
| --- | --- | --- | --- | --- |
| | | | | |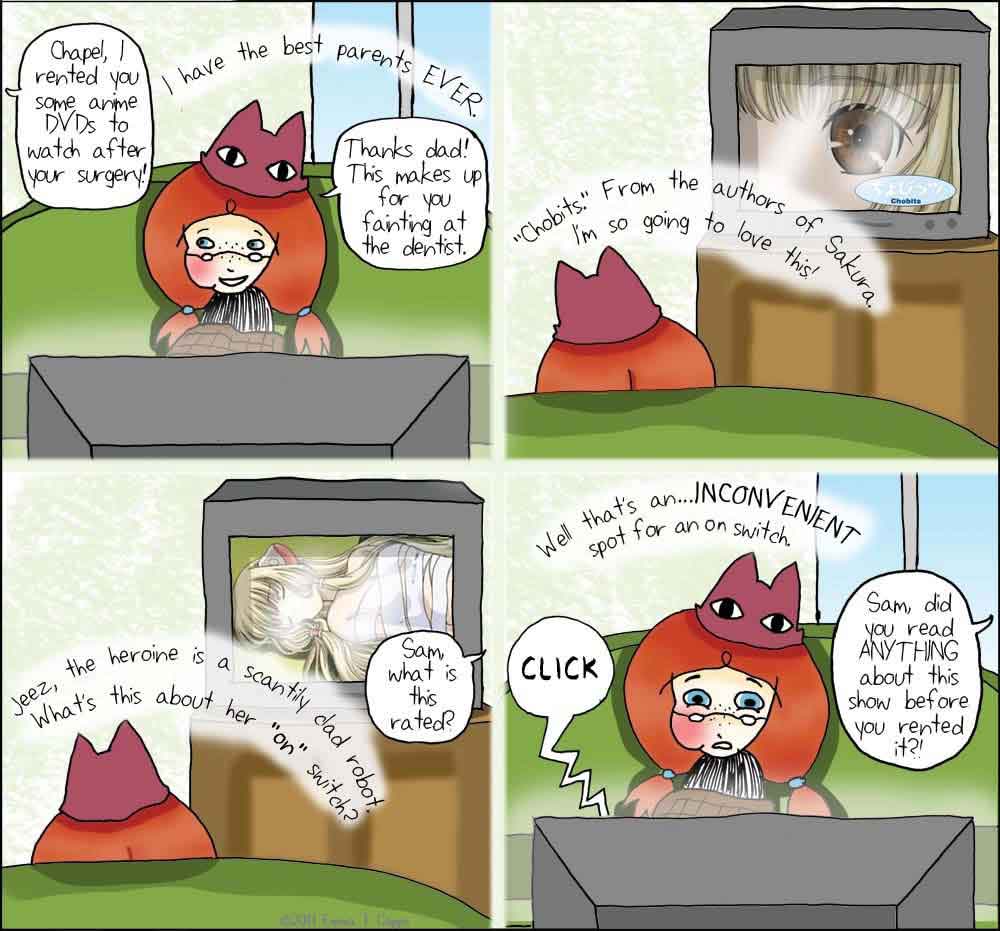 This strip is an exaggeration of the Further Misadventures of my Father! After I had my wisdom teeth removed, my dad bought me some anime DVDs to distract me from my pain and swollen face. He knows I'm a huge fan of the manga group CLAMP (see my Halloween strip where Chapel dresses as Cardcaptor Sakura), and he knew I'd never seen Chobits, so he bought the DVDs. And my mom and I settled down for some Wholesome Family Anime Time.

It turned out that Chobits wasn't wholesome at all, so my mom and I turned it off. Then we watched one of the many Jane Austen mini-movies on PBS, where the ending always turns out the way it should in real life.

The hat Chapel's wearing is a reference to a (non-yucky) anime called Azumanga Daioh! Azumanga is a hilarious anime that I've loved ever since 4th grade. The hat Chapel's wearing is one that appears in the show. It's called a "dad cap," in reference to the cat-like entity that represents the father of Chiyo-chan, one of the main characters. This is also apparently a political reference, but I don't know anything about Japanese politics, so I don't really understand it! Azumanga Daioh is one of my favorite anime and you should definitely go give it a shot! It's very weird at the beginning, but it'll grow on you, I promise.

| | |
| --- | --- |
| | |
Chapel, I rented you some anime DVDs to watch after your surgery! I have the best parents EVER. Thanks dad! This makes up for your fainting at the dentist. Chobit. From the authors of Sakura. Im so going to love this! Jeez, the heroine is a scantily clad robot. Whats this about her on switch? Sam, what is this rated? CLICK Well, thats an inconvenient spot for an on switch. Sam, did you read ANYTHING about this show before you rented it?
check out Emma T Capps new web comic SUNNY,
The League of Fonts
THE LEAGUE OF FONTS is where typefaces are born. Every time a font is created in the world, it manifests as a living, breathing, Font – human for all intents and purposes, but unable to age or die unless their typeface falls into disuse. They live together on the League of Fonts, which serves as a secret island hub, bustling corporation, and home. It's a world full of its own internal intrigues like any office, and Times New Roman is its powerful CEO. He's got a lot on his plate lately: planning the League's famous Decennial party, struggling with modern technology, and hiding his embarrassing addiction to the Twilight movies. Times New Roman is confident he can keep everything under control…but what's an old font to do when a young boy named Louis Pepping accidentally stumbles onto the secrets of the League? Find out every Wednesday!