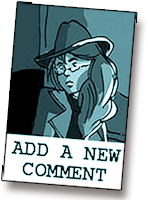 | | | | | |
| --- | --- | --- | --- | --- |
| | | | | |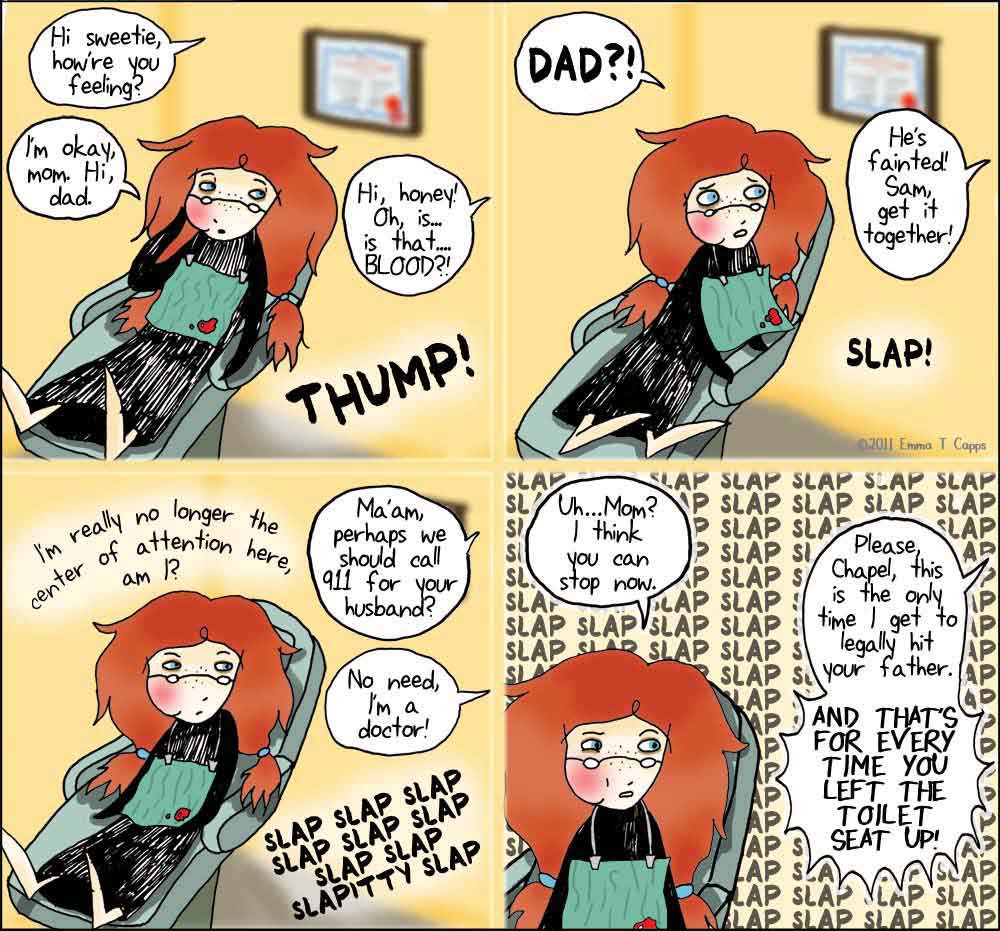 My dad once fainted when he saw a bit of blood on the bandages when I had my wisdom teeth removed. This from the man who when I get bloody knees or elbow scrapes blithely says, "proof you had an adventure kiddo." My mom only slapped him once or twice because the nurses came in and got him all rigged up to machines. I was really scared for him and after three hours of waiting for his blood pressure to go back above 100, we both got what we wanted. To just go home.

Also, I've put up some new sketches on my tumblr. Go check it out by clicking above! And if you want to ask me (or Chapel!) a question, you can do so by clicking on the "ASK!" button at the top of the tumblr blog itself.

Hi, sweetie, howre you feeling? Im okay, mom. Hi, dad. Hi, honey? Oh, is . . . is that . . . BLOOD?! THUMP! DAD?! Hes fainted! Sam, get it together! SLAP! Im really no longer the center of attention here, am I? Maam, perhaps we should call 911 for your husband? No need, Im a doctor! SLAP SLAP SLAP SLAP SLAP SLAP SLAP SLAP SLAP SLAPITTY SLAP Um. . . Mom? I think you can stop now. Please Chapel, this is the only time I get to legally hit your father. AND THATS FOR EVERY TIME YOU LEFT THE TOILET SEAT UP!
check out Emma T Capps new web comic SUNNY,
The League of Fonts
THE LEAGUE OF FONTS is where typefaces are born. Every time a font is created in the world, it manifests as a living, breathing, Font – human for all intents and purposes, but unable to age or die unless their typeface falls into disuse. They live together on the League of Fonts, which serves as a secret island hub, bustling corporation, and home. It's a world full of its own internal intrigues like any office, and Times New Roman is its powerful CEO. He's got a lot on his plate lately: planning the League's famous Decennial party, struggling with modern technology, and hiding his embarrassing addiction to the Twilight movies. Times New Roman is confident he can keep everything under control…but what's an old font to do when a young boy named Louis Pepping accidentally stumbles onto the secrets of the League? Find out every Wednesday!