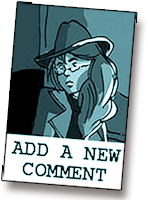 | | | | | |
| --- | --- | --- | --- | --- |
| | | | | |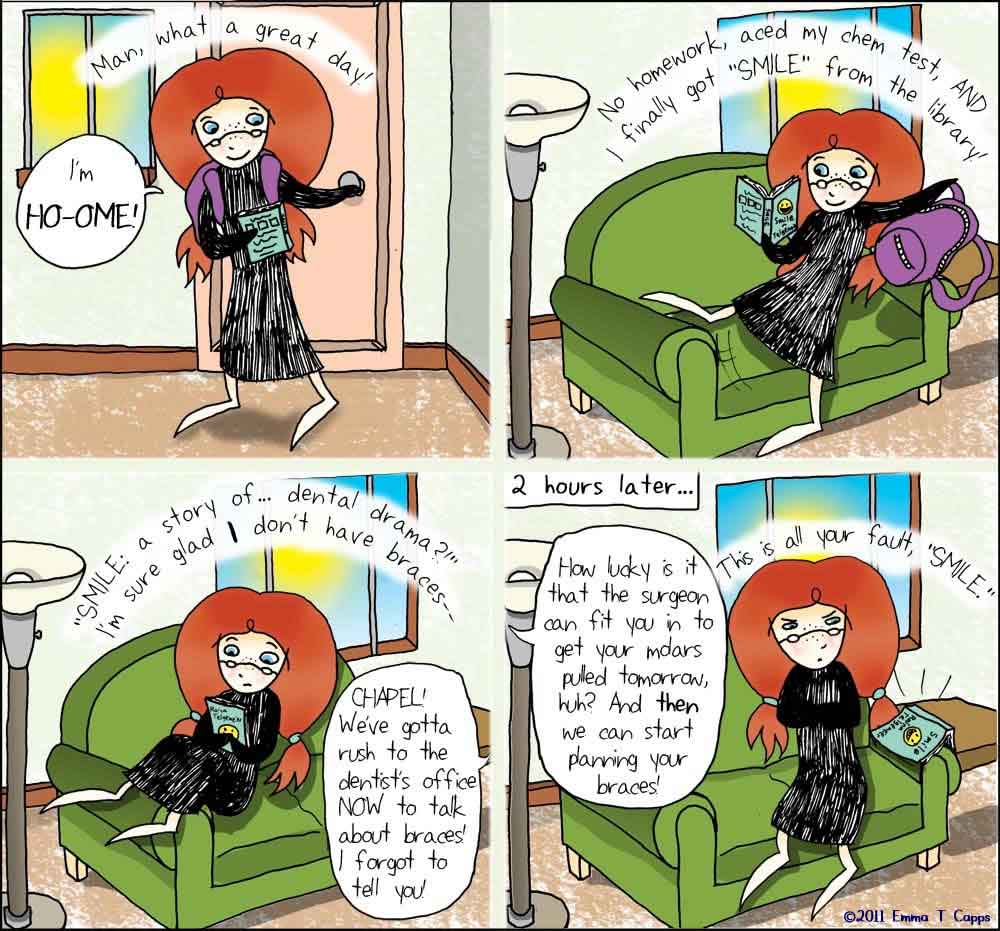 For this comic, I took a small kernal of inspiration from my own dental problems. I'm missing a tooth so my dental plan includes braces, retainers, and surgeries. I had my wisdom teeth removed this summer, so that's one surgery down, one to go. It's not fun but they tell me I'm going to have perfect movie star teeth when I'm done! In only five years! That's the plan, anyway.

I wanted Chapel to be reading a book that had something to do with braces so I chose "Smile" by Raina Telgemeier. It's a memoir-coming-of-age story about the author's dental misadventures during her preteen and teenage years. Check it out!

I've started a tumblr! If you're not familiar with it, tumblr is a blog platform that focuses on more casual, user-friendly blogging. So far I've been using the tumblr blog as a place to post my sketches, fanart, and personal doodles! If you click on the "ASK!" button at the top of the blog, you can ask me a question that I'll answer on the blog or maybe even with a sketch. Please go check it out and ask me a question – I'm excited to hear from you!

| | |
| --- | --- |
| | |
Im HO-OME! Man, what a great day! No homework, aced my chem test, AND I finally got SMILE from the library! SMILE: a story of . . . dental drama? Im sure glad I dont have braces – CHAPEL! Weve gotta rush to the dentists office NOW to talk about braces! I forgot to tell you! 2 hours later. . . How lucky is it that the surgeon can fit you in to get your molars pulled tomorrow, huh? And then we can start planning your braces! This is all your fault, SMILE.
check out Emma T Capps new web comic SUNNY,
The League of Fonts
THE LEAGUE OF FONTS is where typefaces are born. Every time a font is created in the world, it manifests as a living, breathing, Font – human for all intents and purposes, but unable to age or die unless their typeface falls into disuse. They live together on the League of Fonts, which serves as a secret island hub, bustling corporation, and home. It's a world full of its own internal intrigues like any office, and Times New Roman is its powerful CEO. He's got a lot on his plate lately: planning the League's famous Decennial party, struggling with modern technology, and hiding his embarrassing addiction to the Twilight movies. Times New Roman is confident he can keep everything under control…but what's an old font to do when a young boy named Louis Pepping accidentally stumbles onto the secrets of the League? Find out every Wednesday!