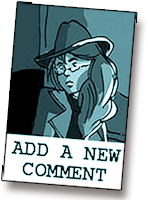 | | | | | |
| --- | --- | --- | --- | --- |
| | | | | |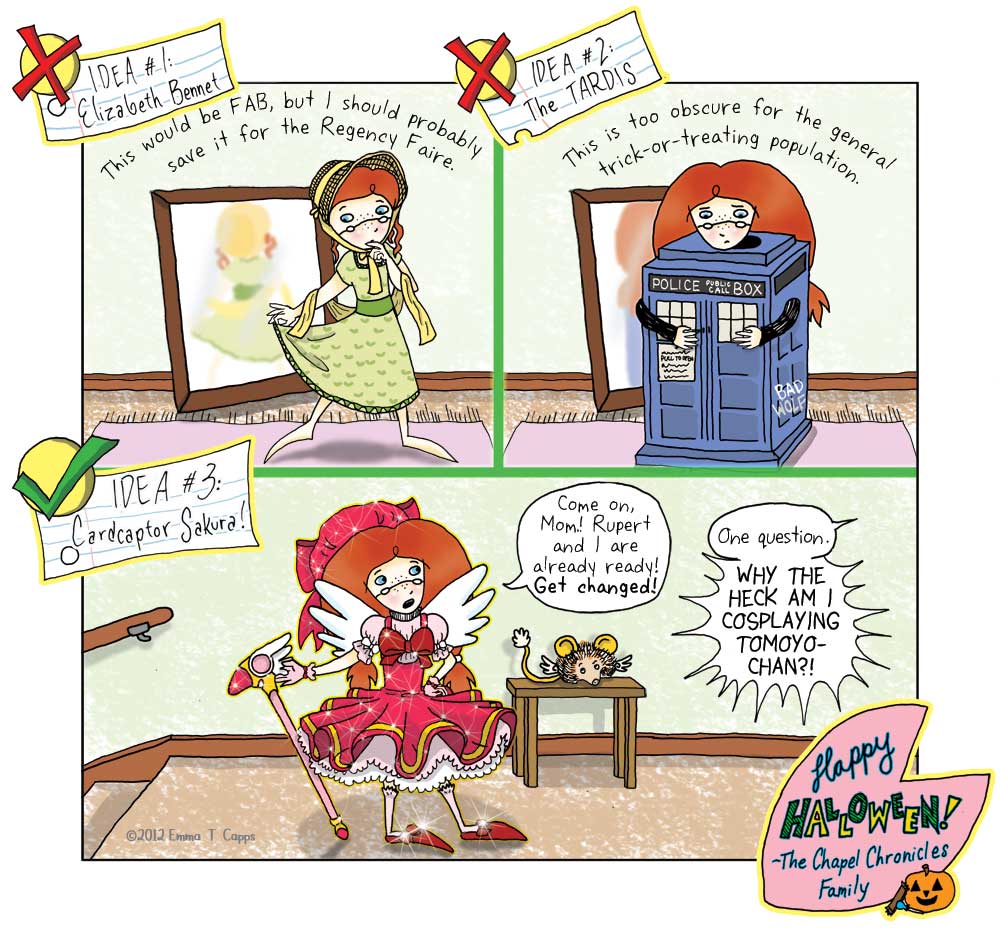 I've always viewed costumes as an opportunity to let my creativity (and geekdom) show through, so I thought it would be fun if I did a Halloween special of Chapel trying on different costumes! Most of them are inspired/directly taken from costumes I've actually worn in the past. First off, the Elizabeth Bennet costume (yes, it's spelled Bennet, not Bennett – I was surprised too!) is inspired by the many versions of Pride and Prejudice I've watched on the BBC and the Dickens Faire I attend in San Francisco every year with my best friend. I actually never dress up in a costume like Chapel's at the Faire. I always dress up like a street urchin.

The TARDIS costume is a costume that I constructed, painted, and wore two years ago for Halloween and still own. For the uninitiated, the TARDIS ("Time and Relative Dimension in Space") is the spaceship from my favorite TV show of all time, Doctor Who. I even painted Bad Wolf on the side of my costume, which is an inside reference to Season 9. When I wore the costume, almost every single person thought that it was just a mailbox. A MAILBOX, I tell you. The only person who could identify it correctly was a guy wearing a Star Trek t-shirt.

The last costume is one taken from the anime Cardcaptor Sakura, which I watched when I was 8 or so and am now re-watching with my parents. I've actually never dressed up as Cardcaptor Sakura, but I have cosplayed as several other anime characters in the past: Chiyo-chan from "Azumanga Daioh," Sen from "Spirited Away," and Kiki from "Kiki's Delivery Service." The main character, Sakura Kinomoto, always wears these exaggerated, overly frilly outfits during her magical adventures of catching cards. Chapel's outfit here is, I KID YOU NOT, the least ridiculous of many of Sakura's costumes. Chapel's mom has to dress up as Sakura's best friend, Tomoyo-chan, who makes all of Sakura's costumes. I wonder what blackmail fodder I'd need to get my mom dressed up like this… And Rupert is dressed up as Kero-chan (short for Cerberus) Sakura's video-game-and-desserts-addicted animal sidekick.

Anyway, I hope you enjoyed Chapel's bit of costume-related fun. What are you guys dressing up as this year? Let me know in the comments! Happy Halloween!

| | |
| --- | --- |
| | |
IDEA #1: Elizabeth Bennet This would be FAB, but I should probably save it for the Regency Faire. IDEA #2: The TARDIS This is too obscure for the general trick-or-treating population. IDEA #3: Cardcaptor Sakura! Come on, Mom! Rupert and I are already ready! Get changed! One question. WHY THE HECK AM I COSPLAYING TOMOYO-CHAN?! Happy Halloween! – The Chapel Chronicles Family
check out Emma T Capps new web comic SUNNY,
The League of Fonts
THE LEAGUE OF FONTS is where typefaces are born. Every time a font is created in the world, it manifests as a living, breathing, Font – human for all intents and purposes, but unable to age or die unless their typeface falls into disuse. They live together on the League of Fonts, which serves as a secret island hub, bustling corporation, and home. It's a world full of its own internal intrigues like any office, and Times New Roman is its powerful CEO. He's got a lot on his plate lately: planning the League's famous Decennial party, struggling with modern technology, and hiding his embarrassing addiction to the Twilight movies. Times New Roman is confident he can keep everything under control…but what's an old font to do when a young boy named Louis Pepping accidentally stumbles onto the secrets of the League? Find out every Wednesday!